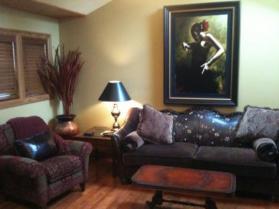 Hidden in the heart of Langley, one of Americas top ten seaside villages, is our newest and most charming property, the Langley Hideaway. You will be transported once you step through the gates into your own private garden court yard the stress of the city will melt away. "Unique", "Private" are some of the words that will come to mind, so will "Grand", "Elegant" and "Beautiful" - they all apply. Like the other WR properties, it is in a class of its own, well above any other vacation retreats on Whidbey, or anywhere in Puget Sound for that matter.
From the four poster bed and antique side tables, to the heated bath floor, and magnificent art, you know that this is something very, very special. Add the fact that you are only steps from all the shops, restaurants, and other services, less that 100 yards from the ocean, and you have the makings for amazing, unforgettable, getaway location.
This property can be booked in conjunction with the Langley Penthouse for larger groups.