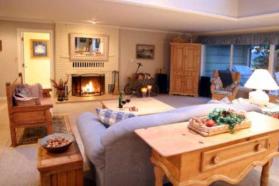 Set on 200' of waterfront, fringed by tall evergreens, and orchard grounds, this waterfront home is the most popular family getaway in Puget Sound. Guests have used words like "Magical" to describe it and the experience they have had there with family or friends.
It is perfect for that special vacation or gathering, as the main area is a massive great room with vaulted skylights, a gourmet kitchen at one end and a wood burning fireplace at the other; entertainment system, designer furniture, and an oversized pinewood family farm dining table. This entire main living area is all glass with ocean view; the kitchen and dining area feeding onto a huge deck overlooking the harbor. It is light and open with a massive, specially designed 8 'X 14" centered skylight, an antique dining chandelier, oversized southern fan, and custom lighting to set whatever mood you want.
Your experience at the Harbor Retreat is enhanced with a huge family room on the lower level, complete with pool table, big screen TV, game table, play area, library (take one/leave one) and river rock hearth gas fireplace. And, of course, like all Whidbey Retreat, properties, there is a huge modern hot tub overlooking the ocean with it's own private setting.
Each bedroom is uniquely themed with charming accessories. Throughout the home the designer furnishings are sprinkled with wondrous 1840's pine antiques from the owner's extensive collection, with every room adorned by beautiful original paintings.
The kitchen is a gourmet chefs dream, with a huge custom cooking island, with seating, and vaulted ceiling with pine beams and huge skylights. The brand new stainless steel appliances are a joy to use! It's one of those places designed to create magic moments; you know the ones where everyone is having a great glass of wine, looking at the sunset reflecting off the sailboats, engaged in banter and shared memories, listening to the laughter and clink of the pool table from the family room below, while the chef cooks up their favorite recipe. We need more such memories in our lives, and the Harbor Retreat is the place to make them.
The grounds are no less enchanting as this huge waterfront estate size property is fringed with mature evergreens, and boasts six varieties of apples (pick some for the best pies you've ever had), two kinds of nut trees, and three varieties of cherry trees. In the springtime, the Rhododendrons are some of the most magnificent on an island famous for the most beautiful Rhodies in the world. There is also an ocean viewing platform where wedding ceremonies have occurred, and a wonderful garden enclave with private wooden swing:a place to share secrets.
To make it all perfect is the beach; great for exploring as you can walk for miles, all the way to Freeland when the tide is low; speaking of which, the tide always brings in some special memory for the observant beachcomber. Of course, there are clams, mussels and the odd oyster on the beach. And, the harbor is the best place in Puget Sound for boating, kayaking and other water play.
Harbor Retreat Amenities:
• Private waterfront
• 4 King beds,2 Queen Beds, 2 bunks
• Linens/towels
• Blow dryers
• Indoor gas fireplace
• Indoor wood fireplace
• Pool Table
• Outfitted gourmet kitchen
• Dinnerware, flatware & stemware
• Entertainment size deck
• Big screen TV
• DVD players
• TV's with DVD players in many of the bedrooms
• Washer/dryer
• Outdoor Gas Barbeque
• Large lawn area
• Hot tub
• Children's play area (inside and out!)